The Soundogs
The Soundogs
They're all 'born-again' these Soundogs! This has nothing to do with religious fervour, everything to do with band members who for one reason or another left the music scene, decided to return and have never looked back. They've been together now for about two years and have the notice-boards at the Quad Recording Studios in Leicester to thank for bringing them together.
The band is a five piece consisting of Vicki Wallin vocals, Steve Davey vocals and guitar, Neil Bucket and Neil Manning both guitarists and Jacki Thomasson on drums. Once again only one member lives in Barrow, and that's Vicki, who many readers will know better as the only two legged occupant of 'Wash and Wags'. The others live round and about; Mountsorrel, Markfield, Desford and Enderby but come into Barrow every Friday to hold a practice session at the Bishop Beveridge Club. The village is also important to them as they often play at open mic nights on the last Thursday of the month at 'The Three Crowns'.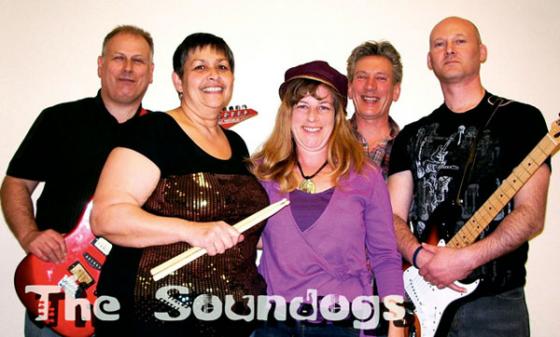 Although the band don't write their own songs, they definitely have their own way of interpreting them. The band plays in pubs and clubs for weddings and private parties. They play cover versions of songs by The Beatles, Stones, REM, Bryan Adams, Status Quo, T -Rex and many others. They need a wide repertoire because they often don't decide which songs they will sing until they get to the venue. Once the nature of the audience has been assessed, the band choose songs they think will please them most. 'Soundogs' charges are negotiable but never excessive as they regard playing as fun not a business so £180 to £200 a night between the five of them is a normal fee. They're sure they offer very good value as they usually start about 9pm, play three sets with only one 20 minute break and finish at midnight. Once they've played a venue they are frequently re-booked as happened recently at The Beacon pub off Epinal Way in Loughborough.
A unique feature of a 'Soundogs' evening is answering quiz questions. Vicki throws out a question relating to the song that has just been sung or the one coming next whenever there's a lull, when a technical check is taking place or a little re-tuning going on. If someone gets the right answer she throws them a chocolate. Very Barrow Panto Group! I wonder where that idea came from? They're definitely young at heart these Soundogs. They say that although they are in their 40's and 50's, they play music from their youth ( 60's 70's 80's ) and it keeps them young. The evenings Vicki enjoys the best are when their audience won't let them go home. They are so into the music, strumming air guitars, jigging away and joining in the songs they won't let them leave. The worst nights, although she stresses they are rare, are in pub venues when a punter gets drunk and wants to take over the mic. Vicki says she's become better at anticipating these drunken lunges and moves the mic away just before the grab. No surprise - Vicki's good at anticipating animal reactions at Wash and Wags!