The Potholes
The Potholes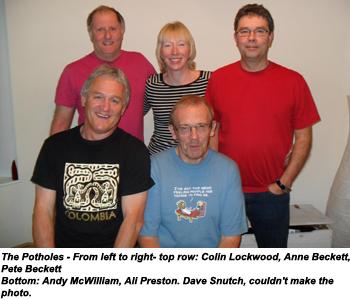 The Potholes are a cheerful five piece covers band who specialise in charity gigs as they very much enjoy raising funds for good causes and don't charge! Although they don't take themselves very seriously as musicians, the fact that they don't charge sometimes surprises listeners as they think them good enough to earn a fee (many bands do ask for one). But no, they play for the love of the music, the fun they have together and the satisfaction of helping to add a few hundred to the bank balance of a worthy cause.
The Potholes is made up of Peter Beckett on guitar, Anne Beckett bass, Colin Lockwood vocals, Andy McWilliam guitar, David Snutch drummer and Ali Preston arranging sound. They are a bunch of good friends meeting occasionally to rehearse and learn new songs in each other's homes. But the odd name - 'The Potholes' - where does that come from? Well, to cut a long story short it involves Peter Beckett coming out of The Trap pub one night pushing his bike only to disappear down a deep unmarked hole the Gas Board had dug earlier. He and his bike were seen to mysteriously vanish then re-emerge a few minutes later from the other side. His friends, watching from the pub, found the incident hilarious and the band found a name.
The friends had jammed casually together for a while but the band itself was formed about five years ago and its members have been pretty stable ever since. They were inspired after attending Malcolm Wagg's 'Barrow's 'Midsummer Music'' in 2006 where they enjoyed listening to other bands and thought to themselves, ' Next year we'll give it a try ', and they did! They play hits mainly from the 60's and 70's with a few from the 80's and always choose songs people know and can sing along to such as 'All My Loving', ' Hard Day's Night' ' I'm a believer ' Bad Moon Rising', Stand By Me', Proud Mary', Out of Time', Brown Eyed Girl and Wonderful World. They usually play two 45 minute sets or at larger events involving many bands play a fast moving shorter set to get the crowd moving.
Their first booking was at The Trap, then a pub on North Street, now a children's nursery. This first gig was a true breakthrough as the band had only been together for six months and they were extremely pleased that their audience was so appreciative. Further charity gigs have regularly followed at the Trap, the Hunting Lodge, Barrow Football Club, Nottingham Sailing Club and at Anstey Nomads FC raising funds for the Meningitis Trust.
Contact: pete_beckett@hotmail.com