SureCare
SureCare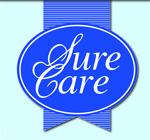 Quality Person Centred
Care & Support
you can be Sure of
Helping people live independently in their own homes.
We can assist with:
Personal Care
Bathing, dressing, getting up or going to bed,
medication assistance, etc.
Personalisation and Support
Leisure, health & fitness and social activities. Maintaining
and taking up new hobbies, attending medical appointments.
Household
Chores Cleaning, washing, ironing, shopping etc.
Contact Details:
Tel:- 01509 260001
Website: www.surecarecharnwood.co.uk