Ten2Ten
Ten2Ten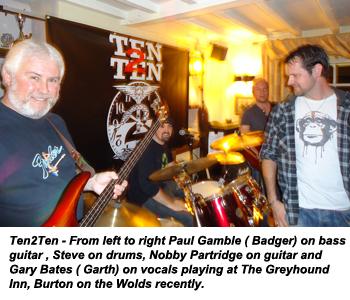 Steve Ward, one of the key band members of Ten2Ten, lives in Barrow but breathes music! He teaches drumming as a pastime and spends many an evening either helping others to realise their drumming dreams or playing in one of two bands both dear to his heart. These bands differ as one is steeped in heavy metal and the other is alternative rock, original music developed from a basis of mainstream acoustic and folk rock. As Steve lives nearby I went round to his house to ask him about these very different bands. First of all we talked about Ten2Ten.
Ten2Ten is a well established four piece heavy rock band composed of Steve on drums, Nobby Partridge on guitar, Paul Gamble on bass and Gary Bates doing thevocals. The band play covers of 70's and 80's heavy metal rock music by groups such as Thin Lizzy, Free, Bad Company and Jimi Hendrix. If you'd like to hear their sound go to https://www.youtube.com/user/TheTen2ten where, on You Tube, you can listen to them play two Thin Lizzy covers - 'Waiting for an Alibi ' and ' Rosali' , the Jimi Hendrix number 'Hey Joe', Steppenwolf 's 'Born to be Wild' and ZZTop's 'Thunderbird' all filmed when the band were playing with great enthusiasm and true heavy metal love of volume at ' The Generous Briton' in Melton Mowbray. They do make a charge, as do most covers bands, although stress that their music is all about fun and freedom, it isn't a business, and that they don't charge when they play at charity events.
 Ten2ten Playing "Waiting for an Alibi"
From 2006 to 2009 they played a lot of gigs round and about and headlined many local Barrow events including 'The Duck Fest ' at the old 'Riverside Inn', now 'The Boat House' . Ten2Ten love playing live and give each audience the best show they can. The best gig the band played was at this year's music festival at 'The Man with a Compass' in Whitwick. Steve said,' Everything just went really well, the band played their hearts out, the audience were really responsive to what we were doing and the whole thing was just magic.' However one gig that Steve considered a real highlight of his musical achievements took place in 2010 when he had the opportunity to stand in for 'Rainbow Rising' a Tribute Band to 70's super-group 'Rainbow'.
Like The Potholes Ten2Ten is an unusual name for a band but unlike the Potholes the origin isn't related to the Gas Board. It comes from an old music hall joke that if you say Ten2Ten repeatedly as you sing the Lone Ranger theme tune it mimics the sound of galloping hooves. Try it - it works.
Contact: steve_m_ward@hotmail.com