Home
Welcome to the Barrow upon Soar Village Website.
---
Coronavirus Crisis Information
Two groups in the village are combining their efforts to help those who are struggling to cope. These are the Baptist Church Coronavirus Community Response, and Barrow upon Soar Helping Hands. Please read their leaflet, and don't hesitate to get in touch if you need help, or wish to volunteer.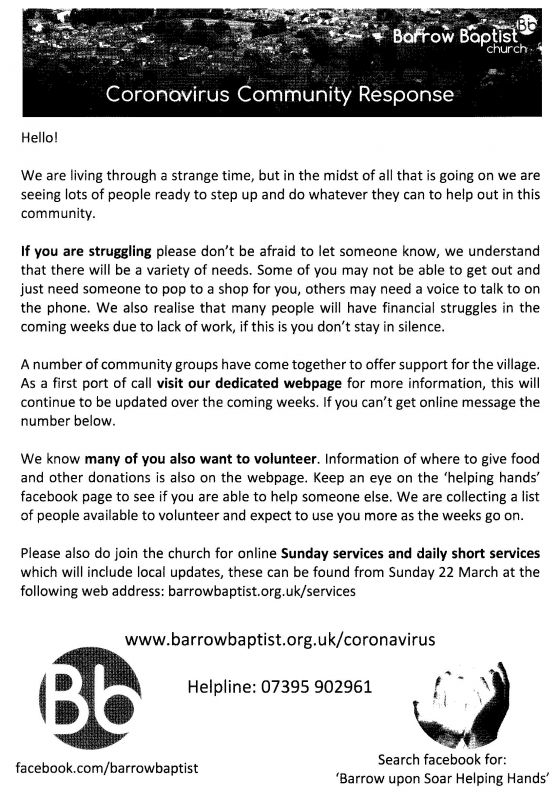 See also www.barrowbaptist.org.uk/coronavirus and Barrow upon Soar Helping Hands
---
Barrow Voice now has a new online Coronavirus issue
This online version will be updated regularly as information changes and new articles and adverts are submitted. Click here Barrow Voice.
There is a Business Section where you will find information on business's that are open and offering services.
---
Well known people connected with Barrow - Quiz 3
MIke Neal's third quiz to give everyone something to do while stuck at home: Stuck at Home Quiz 3
The second quiz: World War II songs for VE day quiz.
---

The site is for the people of Barrow upon Soar and is a direct replacement for the LeicestershireVillages.com website for Barrow upon Soar, which was closed down by Leicestershire County Council on 31st August 2016.
All information which was on the LeicestershireVillages.com site has been copied onto this new site, and in many places the features have been improved. We hope you like it. If you do spot any omissions or mistakes, please let us know using the 'Contact Us' form.
If you would like to add your Event, News, Picture or Lost & Found Item, please send the details via the 'Contact Us' form.
You can be registered on the site so that you can update your own page, or we can do that for you.
Alternatively, and for any other questions about the site, please contact any one of your Volunteer Site Administrators
via the 'Contact Us' form.
---
Lost & Found
Latest News

Next page: What's New?
Last Updated. 05-June-2020 By Keith
---